Today I'm "kicking it old school" with a new monthly meme started by the ladies behind two of my "must-read" blogs The Miss Elaine-ous Life & Theta Mom.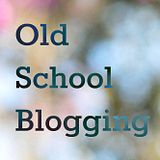 Now, I haven't been blogging as long as these ladies have, but I do remember the days – at least on Facebook and email – of passing lists and questionnaires around "tagging" each other and then either laughed, smiled or cried as I read my friends answers.   I always thought they were fun and I was always surprised about "new" things I would learn about my friends.
I think this is a great way to connect with other bloggers out there – getting to know some better and even meeting a few new ones!    Anybody can take part and join in – all you have to do it simply copy/paste the questions below and post your own responses on your blog and link up.
So here are few things about me:
1. What were you doing 10 years ago?
Wow, 2003 — I had just started dating my now husband.  We met on a blind date set up by mutual friends.  Our first date took place in January and we went to a NYC martini bar.  We immediately clicked and we were engaged that November (we got married the following November).   I was working at the same company I am working at now.  As a company we were all working on a major re-brand/re-launch that was lots of work, but incredibly creative and fun.
An early pix of us on the mesa in Colorado
2. What 5 things are on your to-do list?
Start an exercising routine – aiming for 3x a week
Get ready for a work-related photo shoot next week, finalizing concepts, schedule, etc.
Organize my kidlets closet and size up their wardrobes, getting rid of clothes they don't fit into
Get our taxes done & hopefully get a rebate in hand
Sign my son up for summer camp
3. What are 5 snacks you enjoy?
I love anything with peanut butter, Goldfish crackers, Samoa Girl Scout cookies, popcorn and freshly cut watermelon (something healthy has to be in here!).
4. Name some things you would do if you were a millionaire:
Pay off our mortgage, put money away to pay for my kids' college education, make sure the extended family is taken care of and give more money to my favorite charities.
Re-do my kitchen – It's trapped in the 90s and is serious need of an overhaul. I can't buy a new refrigerator because of how it is encased into the cabinetry.  The fridge itself is old and pretty small (amazing how everything has GROWN since the 90s) and I dread the day that it goes.  I'm going to have to rip out the cabinetry to put in a new one!
Buy a summer home at the Jersey shore – making sure it was large enough to handle lots of family and friends to stay.  Ideally it would be in Wildwood Crest or somewhere around there to enjoy the beach and the boardwalk.
Since I am obsessed with animal prints I would start my own shoe line featuring leopard, giraffe and zebra graphic prints in styles ranging from heels to loafers, ballet slippers to sneakers, clogs to sandals and boots to willies.
5. Name some places you have lived:
I've lived in New Jersey my entire life, but spent a few years in Philly when I was in college.
6. Name some bad habits you have:
I'm sure if you asked The Hubs this question, he'd have a ton of them for me….but I have to say eating when stressed or emotional, leaving my drinking glasses or cans in the bedroom, using exclamation points alot! and talking with my hands (sorry, I'm Italian!).
7. Name some jobs you have had:
As a teenager, I worked as a nanny, a cashier at a Mr. Philly fast-food cheesesteak joint and about a week as a salesperson at store called Royal Silk.  In college I worked in the R&D department at Nabisco preparing the kits that would be sent out for market testing.  I also worked in the purchasing department of an audio company that made amplifiers, consoles and control products for concert bands and major arenas.  I used to solicit bids for purchasing metal and metal stamping (fun I know!) for all that equiptment.
Now it's your turn to share. Why not link up and let me know below so I can read yours too!
Copyright © 2013 The Harried Mom. All Rights Reserved.